Sri Lanka Floods Report: March 2011
Six years on from the tsunami Sri Lanka has again been hit by devastating floods. People have lost their homes and livelihoods and many are struggling to survive on basic rations. Thanks to your generous support on January 19 2011 we were able to visit those hit worst by the floods and distribute much needed aid. Our food parcels contained two bags of rice, wheat flour, sugar, dhal, milk powder, tea leaves, dried sprats, tinned fish, biscuits, chilli powder, coconut oil, soya meat, noodles, candles & matches. Blankets and warm clothes were also distributed as the temperatures have plummeted in the higher regions of Sri Lanka. A medical team from Germany were also able to help those who had been injured in the floods.
Shortly after we returned from our trip to Sri Lanka, towards the end of January there was heavy rainfall. In the following two weeks the water level increased rapidly, and huge areas were flooded. The news agencies reported that over a million people had to leave their homes and were on the run. 13 more people were killed, and the death toll rose to 56. Towns and villages were flooded, and huge areas of paddy and vegetable fields were destroyed.
All the villages and churches that we had just visited on our trip were again affected and in urgent need for help. The brothers continued their aid measures, drove off with the tractor and distributed food. On some days even the tractor could not be used and people could only move by boat. Instead of going by bike as usual, Br. Mahendren had to use 3 different ferrys to come to his ministry place in Muthur. On some main roads a regular boat service was set up to get the people from one village to another. In 6MilePost the water re-entered the houses, and 8 families had to be temporarily accommodated in the church hall.
Only towards mid-February was the all-clear signal given: the rainfall reduced and then stopped altogether. After several weeks of hard, unrelenting work our exhausted workers took a few days' leave to look after their families. From the beginning of January they had been working hard continuously, some had barely seen their families during that time. At the moment they are in the process of evaluating the damage and we are planning how further help can be provided.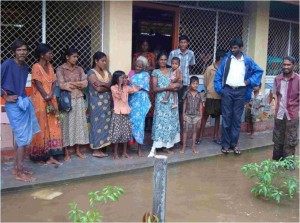 Many families have lost their livelihoods; many widows have lost their chickens and goats due to the flood. Many mud houses are destroyed. Most rice farmers helplessly watched with tears in their eyes as their harvestable rice stalks were drowned in the water and made unusable. What are they to live from in the coming months? Indeed, without our Saviour there would be much cause for despair. But in view of God's promises, we can say: God gives a way through the sea. For 40 years he fed the Israelites in the wilderness, he will also take care of his children in Sri Lanka, using you and me.
In the midst of this misery, God has given joy and answered our prayers. The rice harvest in the large field next to the children's home is a true miracle: 72 bags were harvested! Although the paddy field had been flooded for several days, it was not spoiled!
Another miraculous thing happened in Virumanagar: although the flood has destroyed the clay-made chicken house, almost all chicken have survived. The three widows who are running this project and depend on it for their livelihood are so thankful to the Lord!
In Sandanawatte where a very hostile atmosphere once prevailed against the Christians, the mood has turned. During our last trip, the Hindus still refused help from us, but a few days later they asked Br. Beemerasa: "Could you come back again and bring us some food? We are in need and have nothing to eat!" Immediately another load of food for this village was organized. In 6 or 7 further villages petitions were even written by the respective Hindu mayors, asking the congregation for help. In this disaster, they clearly see the difference between the grandly announced government help, which often does not arrive at all, and the immediate energetic support provided by the Christians. Let's pray that this will leave a lasting impression and will be used by the Lord to bring people to himself!