Glasses Report
A clear vision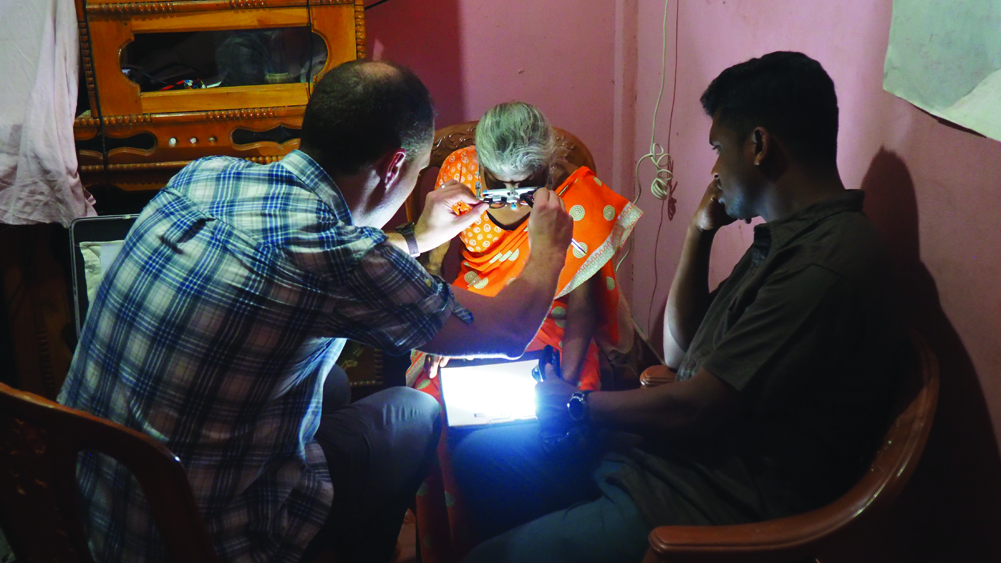 Tom Dawson reports on his trip to Sri Lanka to provide eye care and glasses to those in need.
It came as a shock to learn that my friend Ian Squire had been killed for his faith while on a mission trip to Nigeria. For many years through his Charity 'Mission for Vision' Ian had sought tirelessly to bring eye care to those who could not otherwise access it. Not only had he sought to provide the highest quality eye care and spectacles, he always did it hand in hand with proclaiming his Christian Faith. It had been a privilege to serve with him. At times like this we are tempted to ask why. Why had Ian, who had been so used by God, been taken?
So, now without Ian, it was with some trepidation that I approached Care Sri Lanka with the idea of helping those in need see better with glasses. Over a year ago Care Sri Lanka had visited our church and mentioned the need for spectacles, since then I had a burden to try and help. My wife Felicity, friend Graeme and I stepped out to try to meet that need. 
Months of preparation brought us to the point of departure and finally checking in at the airport we were off. Our cases full of optical equipment and over 1000 pairs of spectacles donated from various sources including Mission for Vision, met the exact weight allowance allowed. Our first port of call was Meddakumbra, high up in the mountains where we served many who worked in the tea plantations. The views around the Church are stunning and it was a privilege to not only help people to see the views but also to enable many to read their bibles again. The smiles and joy on faces as they received their spectacles and were able to see and read again was very special.
After Meddakumbra we travelled up to Trincomalee to serve in several different Churches in the North East of Sri Lanka. We served many people of many backgrounds with so many different stories. Goat herders now able to see their goats, pastors able to read their Bibles more clearly and even an antagoniser of the church received glasses. In total 385 patients were seen and 440 pairs of spectacles dispensed. Names of patients with cataracts have been kept with the hope of arranging cataract surgery in the near future and six patients with complex prescriptions will have spectacles made and shipped out to them on the next trip.
One of the most precious gifts we have is our natural eye sight. Yet spiritually we have been called not to walk by sight but by faith. This is often one of the most difficult things to do, yet as Christians we must continue to walk not by what we see and understand, but by faith, day by day through often perplexing and difficult paths. Our prayer is that the Christians we met will be encouraged and that by the grace of God new pilgrims will start that walk of faith.
One of the men we fitted with glasses was shot in the head during the war and was thought to be dead, it was only when he was in the coffin that someone spotted that he was still alive and he was sent to India to have extensive surgery. He is blind in his right eye due to his wounds but very thankful to still be alive.
Nadushanthani's story
I am 11 years old. I attend Meddakumbra Tamil School. For the past few months, I noticed that it was becoming more and more difficult to read what was on the blackboard. This made it more difficult to understand what was being taught, and my studies suffered. When my parents took me to the hospital, we were told that there was a problem with my vision, and unless I started wearing spectacles immediately, my eyes would get worse. My parents are labourers in the tea estate, and we are a family of four girls. They just could not afford the Rs. 8,000 (£40) needed to get glasses for me. We waited in the hope that God would give us the money. When the medical camp was run in the church, we went along. The doctor from London examined my eyes and gave me a pair of spectacles without charging anything. I praise God for giving my eyesight back and thank the doctors for their care and concern.