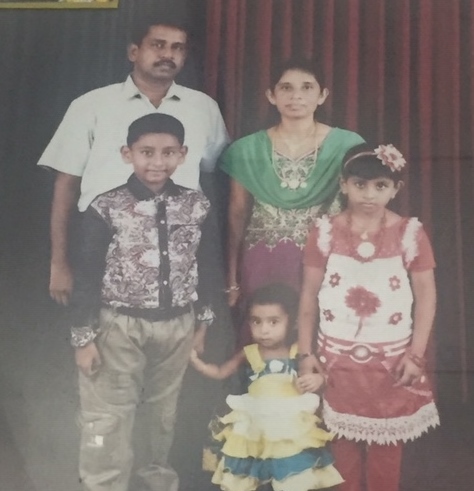 Sri Lanka attacks – how can Christians help? 

Thank you to the many Christians who have been in touch asking how they can help after the recent terrorist attacks in Sri Lanka. Your kind thoughts and prayers are much appreciated. For ways of donating, see below.

Sunday's bombings have had a profound impact on believers in Batticaloa and across the country, giving rise to specific practical and spiritual needs we are trying to meet.

One family (see picture above), closely connected with the work, lost two of their three children due to the blast — a son and a daughter, who were attending the Sunday School at Zion church in Batticaloa. Their father Santhakumar spent 20 years working as an administrator for the Lanka Fellowship of Churches (LEFC).

LEFC is giving Santhakumar's family much needed counselling as well as urgent financial help with funeral costs, providing meals for their many visitors and helping with his loss of earnings as the family is too traumatised for him to return to work at present. 
BBC News
BBC News covered the loss of the two children and interviewed Santhakumar's wife – here is a short video clip https://youtu.be/4DWBuHpT-HE

LEFC is also providing financial help and counselling to many other families impacted by the bombing in Battaciloa. This includes funeral costs, transport so families can visit loved ones, and help with loss of income where families are still grieving. Where possible, we also want to help with ongoing medical treatment.  So far 20 families from Zion Church have been helped. 

Sunday's bombing has had a profound impact on the people of Sri Lanka. It has reawakened memories of the brutal 25-year civil war. In addition  to those directly impacted, many people have lost their jobs as there is a lot of fear and tension in the country, particularly directed towards Muslims, with many businesses stopping or shelving non-essential work. 
Many of the LEFC church members are day labourers, often travelling to big cities to work, but have now returned to their villages with no work or income. Supporting them is a significant cost to LEFC. With another poor harvest this year and the ongoing low rainfall, they have little to fall back on and are desperately looking to LEFC for help.
LEFC pastors and evangelists are spending a lot of time counselling distressed Christians, some who are asking how a God of love can allow such a thing to happen. LEFC are assessing the needs and providing as much help as they are able.
All LEFC Churches have armed guards
The government has advised all churches to cancel meetings. But if they want to go ahead, it will provide armed soldiers or policemen. All 53 LEFC churches are continuing to meet and have armed guards. However, some young Christians and non-Christians are too scared to attend. Many are not sending their children to Sunday School Christians. 

Please pray for the LEFC as they seek to meet the great spiritual, psychological and financial needs — and that God will somehow turn it for good in His providence.

If you wish, you can make a donation below or pay directly to the Care Sri Lanka account (A/c no 76099024, Sort Code 60-09-25) or send a cheque for Care Sri Lanka.

"He (God) heals the broken-hearted and binds up their wounds." (Psalm 147: 3)