Even though Christmas is months away, if you want to help widows and children in poor village areas – then now is the time to take action.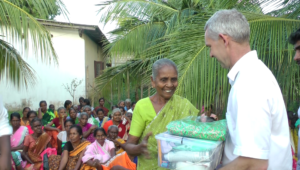 You can help in two different ways – through financial donations and by collecting items we can send in our shipping container (drop-off deadline October 27th, 2018).
Meeting specific needs
The widows are usually very poor as they have to support their family alone. But through your generosity last year, we were able to help in many ways, including:
Providing brand new clothing or a pair of shoes at an average price of £5 an item to many of the 1200 children in the Sunday schools, with the shortfall made up from general funds.
Giving out 80 widows' boxes which contained a variety of household items and a sari.
Clothes and shoes are especially important because the children rarely, if ever, get new clothes or shoes except their school uniform which we help to provide, as without it they cannot attend school. The children's other clothes are second-hand or handed down until they are no longer fit to be worn.
Collecting items for our shipping container
As shipping costs have risen considerably this last year, we are looking to send new or nearly new items in the October shipment that do not take too much room. Suitable items include toys, clothes, household items or some of the items we can include in the widows' boxes.
The deadline for us receiving items is October 27th 2018.
For more information about what items are suitable, please contact Gary Donaldson. Email: admin@lankachurches.org or Tel: 07535119106
Financial donations
The deadline for financial donations is November 30, 2018.

Many thanks for your kindness and support.