Drought Update
People are full of thanks to those who have given help and they are thankful to God for his kindness. They say that your help came just in time as many had given up hope.
The drought forced people to spend all their capital, leaving many with nothing at all. Many people just sold everything they had just to survive, including jewellery and livestock and even their businesses. The result is a fear now of debt as many have no idea how they will ever be able to pay back what they have borrowed. To make matters worse, food has become very expensive.
The food and water we were able to supply has kept people going and the money donated has helped to provide seed to plant home gardens and also to buy rice seed, fertiliser and afford the hire of tractors. So far we have enabled the planting of 120 acres of rice. Businesses have also started up again, medical needs have been paid for and new wells have been dug.
It is hard to convey how great the impact of your kindness has been. The churches feel a great sense of love and unity with all those abroad who have helped them in their hour or great need.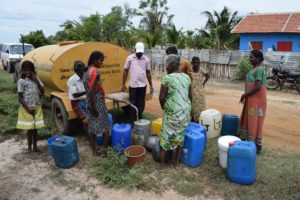 Great physical and spiritual blessings
Aloysius the Office manager at 6 Mile Post reports on how the drought hit the north and east very hard with many slipping into debt and despair. But he also explains how the giving of people abroad has transformed their lives.
Drought takes a dreadful toll
"The climate of Sri Lanka varies across its regions. In the north and east the last few months have been very hot, which is the opposite of what has been experiences in the south where there have been heavy rains. People in the south and central Sri Lanka have no idea that there is a serious drought in the north.
You only realise how much you rely on a water supply when you no longer have it. Bodies get weaker, people cannot wash and so diseases like diarrhoea, dysentery, typhoid and liver disorders spread. There  is no water for the gardens which of course means no food. Fathers are forced to travel far from home to find work and they suffer from the mental strain of needing to provide for their wives and children. Some have sadly been driven to suicide and some to insanity. There has been an air of hopelessness and apathy evident throughout the area. The children are constantly hungry and are too weak and lethargic to concentrate on their studies, so many simply do not go to school.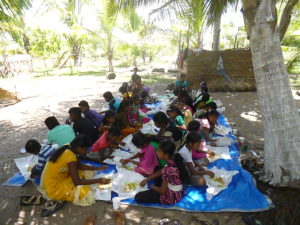 We are currently providing daily food rations or meals for over 1,200 families. In addition we have set up meal programmes for 800 children, Sunday meals for all 53 churches and support for widows. The food rations include rice, tea, sugar, flour, soya protein and biscuits. The food is always gratefully received and it is a joy to see the relief and happiness of those who we have been able to help.
Building for the future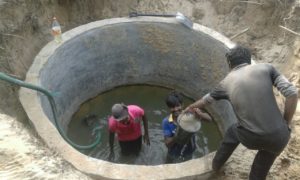 We are spending resources carefully as we simply cannot meet all the needs. A family needs the equivalent of £250 for one acre of paddy field and tractors need to be hired to plough the land and that is expensive. Some money is spent on medical needs and we are currently building or extending 29 wells, setting up more home gardening projects and providing medical aid.
Husband gives thanks
"My name is Vettval. I live in Southern Muthur and worship at that church. My wife is disabled so I have to do everything for her. I couldn't get a job locally because of the drought which meant that I had big financial problems and no food. I prayed and only shared my problems with my pastor. Suddenly food items and medical help came. This brought big blessings. Thank you to those who have provided support. Praise God! And thank you to the people involved in the administration. I would like to say thank you to them also from the bottom of my heart!"