Drought leads to family breakdown
Debt is forcing many families apart with devastating consequences. LEFC (Lanka Evangelical Fellowship of Churches), who administer the funds raising through Care Sri Lanka are doing all they can to keep families together.
So what are the causes of family breakdown? And how are our churches affected? A legacy of a 25 year civil war and in recent years a series of poor or failed harvests has left rural families in increasing debt. With many farmers giving up (and consequently fewer jobs for day labourers), it means that men leave our churches in desperation to find work in cities and abroad. Also, some women go to the Middle East. As a result attendance at most of our churches has fallen.
The impact on families and churches is very damaging. With long periods apart, men and women often fall into sexual sin and marriages break up. When the women either work abroad or are just not coping as they have been deserted and are the only bread-winners, children are often passed on to relatives or friends to look after and are neglected.
The long term impact of family breakdowns on both the families and the churches is a great cause for concern.
Has the drought situation improved?
Sadly although in some ways the situation is marginally better than last year, in other ways it's worse. Initially encouraging rains stopped during the final six weeks before this year's main rice harvest. Consequently, of a total of 358 acres of rice planted by LEFC churches, 263 acres (74%) were lost.
Realising food would be very scarce later this year, LEFC tried to maximise food production while the well water lasted. All available LEFC land was cleared and planted and advice sought from the Ministry of Agriculture to obtain best quality drought resistant seed. With more out-of-season rain this spring than expected, vegetables and peanuts were grown successfully. Although a great help in the short term, these do not replace the staple diet of rice.
The summer has been very hot and dry. Many food prices have doubled, particularly vegetables. Animals are dying and any remaining water in most wells is undrinkable. The social impact of another year's suffering, on top of last year, is disastrous.
How can LEFC help keep families and churches together?
LEFC is doing all it can to keep families and churches together by helping to provide a sustainable life in the villages. Culturally and practically, people find it very difficult to move away.
Help involves ensuring basic ongoing needs are being met, such as water, food, housing, medicines and clothes. But we're also putting in steps to support existing employment or provide new work.
LEFC projects include:
Digging or deepening 28 wells to extend the growing season
Buying several acres of land for church members to grow crops
Reducing dependence on rice crops by helping set up small businesses, e.g. Home Gardens (small holdings), goats, poultry, fishing and more
Financial support has been invaluable
The financial support provided from abroad this last year has made an enormous difference to families and churches. They are full of thanks. Here is just some of the feedback:
'We thank God for the love and concern of our brothers and sisters abroad. I feel privileged that, we in Kekirawa are united with Christians in the UK, Germany, Malaysia, India and Sri Lanka in the building of God's kingdom' – Ps. Samaracon (Kekirawa)
'Some of our new converts were quite overwhelmed by the love and concern shown by the greater church. They said that it was the first time they had been shown kindness by someone they did not know' – Br. Yoganathan (Haputale)
'We thank our Christian brothers and sisters abroad whose love and concern for us has been great. We pray that God would bless them abundantly' – Br. Mylanantham (Kallappaadu)
How can we further support LEFC churches?
Any help is greatly appreciated. This could be to meet ongoing basic needs or to help with funding self-employment requests. Churches could consider linking up with a sister LEFC church to support them.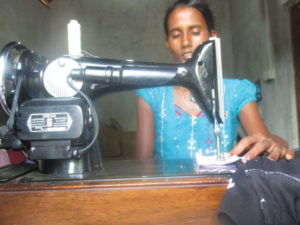 LEFC church workers visit all the families to pray with them and assess their needs. They send requests to the office at 6 Mile Post, detailing the history of the family and the needs. These are prioritised and as funds are available requests are approved and funds released.
Details of self-employment needs are available on request. Ref Contact Us.