Other News
Ganesh wanted to kill Jeyakanth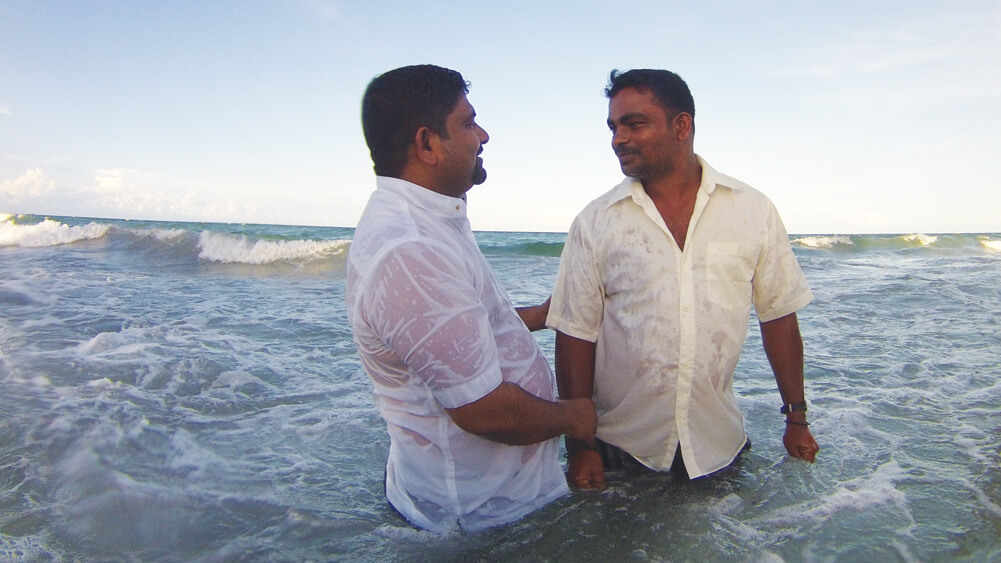 Ganesh joined a terrorist group to take revenge on Jeyakanth.
Ganesh is one of four brothers whose father went missing during the civil war. LEFC financially supported him through school. At 18 he tried to rape a girl at night, but she shouted out and the Thampalagamman villagers stopped him. The village leaders asked Jeyakanth for advice on how to deal with him. In these situations the girl is considered 'spoilt goods' with no marriage prospects. Unless Ganesh was willing to marry her, he would be sent to prison. Afraid of the alternatives both agreed to marry. He had expected Jeyakanth to be 'soft' on him and was ashamed and angry with Jeyakanth. He had no intention of staying with her and two days after the wedding he ran away to join the terrorists because he wanted to be trained how to kill him. However the training was so hard he could not cope. He could not return to his village so went to Colombo, here he developed mental problems. In time he recovered and married a Christian girl. She was a good influence on him and he became a Christian. So 10 years after leaving he returned to Thampalagamman and was baptised by Jeyakanth! He humbly apologised for his behaviour. He said his desire to kill Jeyakanth followed a period of demon possession.
Girls leave cruel step-mother
Please pray for three sisters – Pushparani, Jeyarani and Subashini. After their mother's death, their father has married another woman. The three girls suffered ill-treatment at the hands of their step-mother. When they accepted Jesus and started attending church, their step-mother had asked them to leave their home. We have managed to build a small house for the girls to live in.
Deeply moved by your clothes donations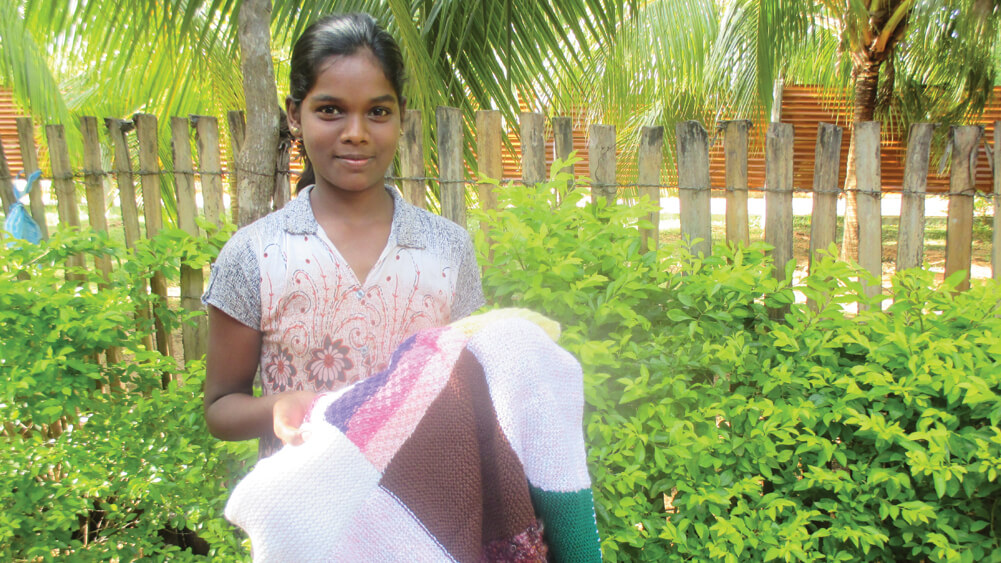 Clothes that were sent by our brothers and sisters abroad were sorted, parcelled and distributed to our church families. As good clothes are quite expensive here, all who received them were deeply moved by the generosity and thoughtfulness of Christians abroad.
Family suffering
Suman nearly died and his wife and daughter have health problems.
Br. Suman used to be a terrorist. He now lives with his family in Veeramanagar and works as social worker for our churches in the Muthur area, and as Gospel worker for Uppural and Neenakeany churches. He also helps at the centre in Neenakeany where children from poor homes are given a daily meal. He is a Godly, hardworking, caring brother. His family has experienced a lot of suffering.
Leading up to the rice harvest Suman was on guard duty in the field belonging to the church, protecting them from wild elephants, who can wreak havoc by trampling the tender rice plants. While asleep he was bitten by a snake, on his face. It looked as though he would definitely die as he had not received treatment quickly enough. Six men from the church at Veeramanagar have died of snake bites. The church people prayed earnestly over him and he was taken to hospital in an unconscious state. Although he was treated and sent home, he suffers from frequent headaches; from time to time his face swells up. Traces of the snake venom still linger in his blood. The family is very worried.
His wife, Sellakkili works from home, running a small shop as well as caring for their two daughters. During the civil war in 2001 she was injured very badly in an attack, which severely damaged her right leg, her hip and head. After more than one year in hospital, she was able to lead a normal life to a certain degree. But she repeatedly falls down and has got severe pain in her hip.
Suman's second daughter, Thamilarasi is only 4 years old. When she was a six-month-baby, she was diagnosed with some liver disorder; with treatment she was healed. Recently, she has fallen ill, and doctors say that there is a problem with her digestive system. The parents plan to take the girl to Jaffna for treatment. Please pray for the little girl, that God would deliver her from this illness.
Please remember the family in prayer.
Food prices rocket

The price of all basic foods has increased. As local rice cultivation is feasible only in areas where there are channels and streams, rice is in very short supply; and terribly expensive. As vegetable prices have gone up so much, people resorted to eating more fish. As a result, fish prices have gone up. The prices of most food items are much higher than prices last year. Coconut and green chillies are being sold for silly prices. Last year, this month a coconut sold for Rs 30. Now Rs. 60 for a coconut is considered cheap. Most villagers have stopped using coconut, which used to be a basic ingredient in most cooking. Manioc yam (Cassava) is replacing rice as the staple diet.
Church in Thannanmunnai facing major challenges
The teaching of other Christian denominations is causing confusion and doubt in the minds of our believers. Pastors from these churches are trying to infiltrate our congregation and draw our members away with teachings of blessings and prosperity. This is a big challenge to our reformed teaching.
The individual actions of a couple of our believers have been criticised by a member of another church as well as a non-Christian, with a view of bringing the church into disrepute.
One of the church families had borrowed a large sum of money and are unable to pay it back. As a result, they are shying away from church meetings and gatherings. Sadly, their situation has brought the church under criticism.
Distress caused by Hindu teacher
Sandanawatte is a village made up of only 65 families – most are Hindus, and many are quite fanatical about their faith. Christian children are treated differently at school by the teachers. The new head teacher at the village school is a staunch Hindu who forces the Christian children to observe Hindu traditions and practices. This has caused confusion and distress among believers. Yet, our Lord has strengthened the faith of our believers and the church is growing.