Short Reports & Other News
Other news from Sri Lanka
First ever holiday for widows
100 Widows were taken on a three-day holiday to the mountains!
Earlier this year Abi Hubbard and Paul and Ruth Fountain visited Sri Lanka. They ran training sessions for 40 pre-school teachers and were also involved in running widow's programs where the team told Bible stories and did crafts and painting —all good therapy for the many who have suffered trauma in the civil war. 
One of the main purposes of the trip was to have a three-day holiday in the mountains for church widows. The team took widows from the rural villages on an eight-hour coach journey to the tea-growing highlands, stopping at the beautiful Kandy Botanical Gardens on the way. It was like 'going to the moon' for these widows! Most had never been more than 20 miles from their villages. 
On the holiday, they played games, did crafts and had a missionary story, an outing and wonderful times of worship. They visited the tea plantations and were fascinated to see where tea came from. It was so moving to be with them. During a two-hour morning prayer time, they poured out their hearts which were full of praise and wonder at God's creation. They had never seen mountains before and had only heard of them. They were just so happy and full of appreciation. They have such hard lives. One old lady said it was the best three days of her life! It was very moving and a great privilege to be there. 
Multi-task jeep needs replacing
The jeep which served LEFC faithfully in the North Muthur district for 10 years is old, damaged and almost beyond repair. As there is no public transport in that area it has been invaluable to those who need to travel long distances to church, school and hospitals. It has also been used to transport food, take children and young people to outings and conferences, and to support businesses. LEFC would like to raise funds to buy a larger bus to provide regular transport to Muthur town for the whole community. LEFC would make a small charge to help cover costs.
Eye operation needed
Kishoda (3) suffers from a deformity in one eye. The eye is swollen and protrudes making it difficult to close. She comes from a very poor family of tea pickers who attend the church at Meddakumbra. Her father committed suicide in a drunken stupor. Her mother is too poor to afford the cost of medicine, transport to take her to hospital or an operation. Please pray that money will be raised for this purpose.
Drought and floods wreak havoc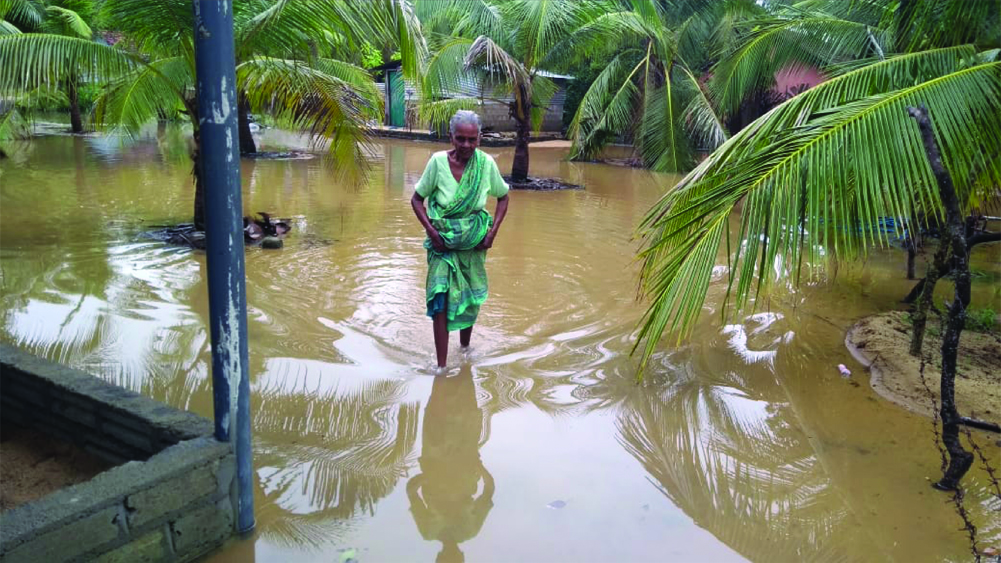 The mass clearance of forest land in Sri Lanka for the expansion of roads and other developments is impacting the climate and causing havoc with the environment. 
Average temperatures are creeping up every year and the seasonal monsoon rains, that are essential for farming, have become unpredictable, and in some years, non-existent. This April, temperatures hit 48C– which was unheard of in Sri Lanka. 
2018 was a bad year for most of the country. There was no rain during the rainy season and the farmers lost most of their crops. Then, the rains came with a vengeance, flooding large areas, sweeping away livestock, causing landslides and great destruction. 
This year too there has been very little rain. Wells, ponds and water holes have dried up. Children have very little water to wash themselves or their clothes. As a result, the level of hygiene among children is poor and many have developed diseases. 
Most of the believers in our churches try to grow their own food and vegetables and have lost most of it. 
In the coastal region, one can observe starving cattle trying to feed on dried up grass, and birds trying to drink muddy water from shallow pools. Cattle can be seen shedding tears (a sign of distress when there is water shortage).
The people in Muthur, one of the hottest regions, have been suffering from a drought for months. Many people live in small sheds constructed from Palmyra leaves. Some widows don't even have a door, which leaves them unprotected. 
Now the floods have washed away the newly-planted rice fields and led to the drowning of livestock.
Let us pray that the Lord provides for their needs and that God shows us ways how to improve their situation. 
Computer centres train more people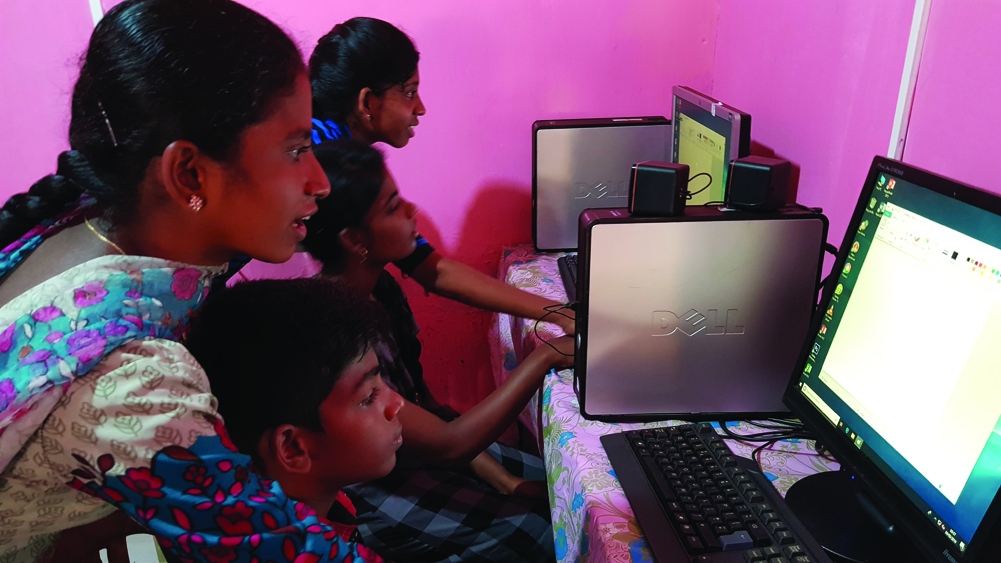 Computer centres have been set up in Thannanmunnai, 6 Mile Post, Thampalagamam and Meddakumbra.
These are very useful in training people. Computers are in short supply in the village schools so the extra tuition is a great help and witness. A Hindu lady was converted after attending the computer classes in Meddakumbra.
Prayer needed for Stephen Christopher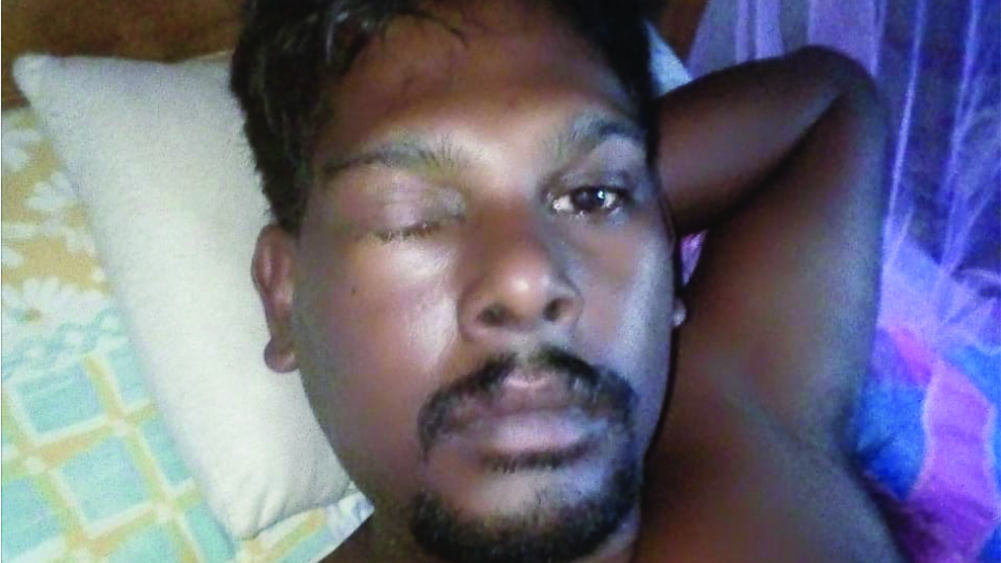 Before joining the LEFC, Stephen Christopher was pastor of a health-and-wealth charismatic church. He came in contact with reformed doctrine when he visited his mother-in-law, who attended the LEFC church at Urugamam. Over time, Stephen changed his theology and left his church. He was given work by LEFC and eventually took over the work at Urugamam and Karradiyanaru, with Ravi, an evangelist, coming once a week to help. 
This year, Stephen has experienced great suffering and became depressed. Firstly an elephant destroyed his mother-in-law's shop and his father-in-law has become a backsliding drunkard. 
Stephen was also attacked by a group of drunk young men when he was accompanying his four-year-old son on the way back from evening class. They stopped him and accused him of teaching the villagers about Christianity. After the attack, he ended up in hospital. 
More recently, he was bitten by an insect when riding a motor bike. He fell off and was injured and again ended up in hospital. The Hindu villagers said God was punishing him. Jeyakanth's preaching on Isaiah 24 encouraged him to carry on. Please pray for God to build up the work and that Stephen would be strengthened. 
Selvakili is dying of cancer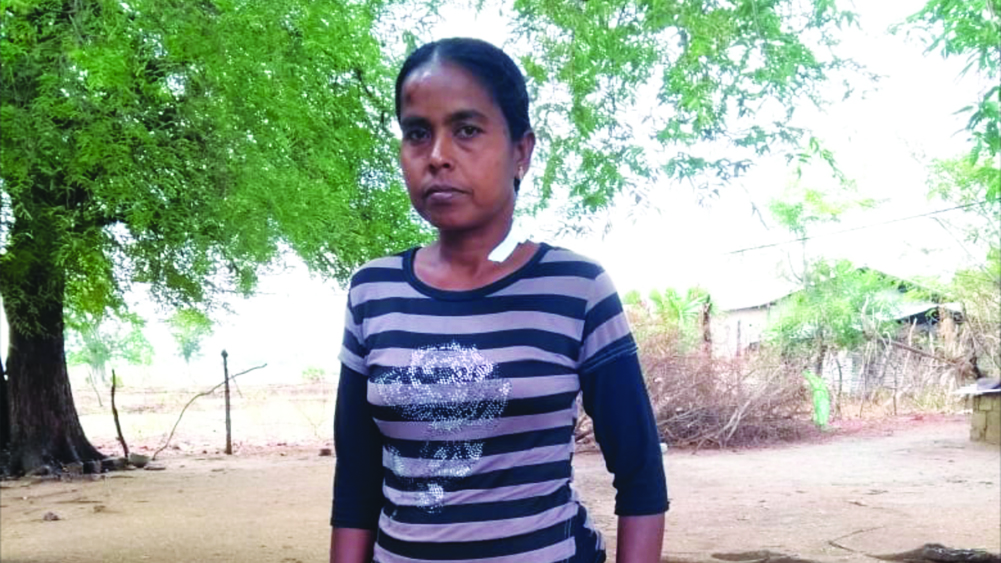 Selvakili lives in the village of Veeramanagar. She is a mother of two girls, Puhalarasi (11) and Thamilarasi (6). Her husband, Suman, is a Godly man who diligently ministers at the nearby Neenakeany church. The whole family are fully involved in the activities of the church. 
During the last stages of the civil war, Selvakili fractured a femur, which meant surgery and pins were needed. In May last year, the bone broke again and Selvakili needed another operation. After surgery, she could not walk for six months. Gradually, with physiotherapy, her condition improved slightly. 
Early this year, she had high fever and then she lost hearing in both her ears. She was treated in hospital and gradually regained her hearing. Recently, she noticed three lumps at the back of her neck. These have proved to cancerous. 
Despite chemotherapy, her condition has deteriorated and there is not much more the doctors can do. In spite of her trials, Selvakili is trying to hold on to her faith and be glad in the Lord. Please pray for God's mercy and peace for this family.
Saved Hindu teacher forbidden to go to church
The teacher who came to teach our pre-school children was a Hindu when she joined us. By associating with our believers and gospel workers, she became interested in knowing Jesus and started attending church services. In time, she accepted Jesus as her personal saviour and Lord, and testified at the New Year's Eve service. However, her change of religion has not gone down well with her family. Her parents have forbidden her to attend church services. This sister goes out on the pretext of tutoring children and sneaks into church. Please pray that God would strengthen her faith and that her parents will accept her decision to become a Christian and not impose restrictions on her attending church.
Many fear the new President
Gotabaya Rajapaksa has been voted in as president. Tamils are very fearful of the future. He has appointed his brother, former President Mahinda Rajapaksa, as Prime Minister. Gotabaya was defence minister from 2005 to 2015, overseeing the crushing of the Tamil separatist movement and ending 25 years of civil war. He was nicknamed "The Terminator" by his own family and developed a tough reputation for alleged extrajudicial killings and abductions of Tamil separatists and journalists.
A new Children's Home has been built
Vinayagapuram is a poor village and most of our church believers are poorer than average because all government benefits schemes are denied to Christians. The names of Christians are removed from the list of widows when paying out government subsistence allowance.
Christian schoolchildren are discriminated against and are forced to visit the Hindu temple every Friday and participate in Hindu festivals at school. If they refuse their government grants are stopped. Christian parents seeking a meeting with the Head teacher or Education officers are ignored, humiliated and ridiculed.
Five boys and five girls from very poor church families have moved to children's homes run by the church to get a better chance in life. The five boys will live in a house belonging to the church at Valaichchenai and the five girls in a house at Batticaloa. Kavitha, the widowed mother of one of the girls, will live with the girls and look after them while Alageswary, the widowed mother of one of the boys will live with the boys and look after them. All 10 children have lost at least one parent and live below the poverty line.